10.03.2007 - More bands confirmed
| | |
| --- | --- |
| | Whoever may believe that UFTG 2007 will be not adequate extreme the following announcement will change one's mind. We are proud to present the one and only innovator of NWOADG (New Way Of American Death Grind). Ladies and Gentlemen, Dying Fetus will perform at Up From The Ground 2007! The brand new output "War Of Attrition" is already available since 9th of March. |
| | |
| --- | --- |
| | Each fan of progressive Death Metal combos like Cynic, Atheist etc. should already know this following name. We talk about Sadist from Italy. Releases like "Above The Light", "Tribe" and partially "Crust" are real classics for this kind of extreme music. The follow-up "Lego" (1999) was a glaring breach of style and produced the provisionally split of the band. The comimg album "Sadist" (Release: April/2007) marks the come back as well as their return to traditional virtues. Live for sure a sop in the pan of each prog. Death Metal freak. |
| | |
| --- | --- |
| | After the Bay Area heroes Testament are confirmed for UFTG we are proud to announce the next Thrash Metal legend. Formed already 1983 in Bristol, UK. Innovators of classical albums like "Power From Bright" or "The Force". Yeah, you're right! After abstinence for many years Onlaught are back from hell with a brandnew killeralbum "Killing Peace". Produced by Andy Sneap. The band will raze UFTG 2007 to the ground with a well balanced mixture from evenly those classical stuff and new material. |
13.02.2007 - Headliner for Friday plus 2 more bands confirmed
Our Billing 2007 regrows:
| | |
| --- | --- |
| | Since 1991 the name Apophis already stands for high energy Death Metal with excellent guitar work, double-bass drumming and brutal growls. Anyway the pure song with independant melodies and smart arrangements be to be fore. End of the 90's it became quietly around the band. Strengthened with new line-up Apophis are back since 2004, now ready to rock the UFTG stage as well. |
| | |
| --- | --- |
| | The Swedish formation Sonic Syndicate is around here not yet everyone a term. That becomes however with the coming Nuclear Blast debut "Only Inhuman" (release: 18th May 2007) enormously change! Fans of melodic Death Metal scandinavian style will affect this band. After a longer lean period finally a young and promising band from this category comes into being. |
| | |
| --- | --- |
| | We remain with the melodic Death Metal, we remain in Scandinavia as well, more exactly said in Sweden, and we are proud to announce our Headliner on Friday. A showpiece of this musical style. At least since the entrance of front lady Angela Gossow Arch Enemy rank among the absolute top of the European extreme metal scene. We need to waste no words about the special position of the other musicians, above all about guitar hero Michael Amott. With the coming UFTG those band finally to stand where it one belongs, i.e. on the Headliner position of a Metal festival! |
07.02.2007 - Updates
Two small updates released:


1. Anyhow we received the wrong info, Ear-Shot is from Austria . That's not quite right - it's a German band. To prevent other confusions: Ex-Earshot becames to Ear-Shot incl. the "-" due to name overlappings. The band will release further information during the next days/weeks on their homepage .

2. For each were interested in music of Fleshless we added a sound sample from their current release.
03.02.2007 - And the winner is...
As further new signings we would like to present the winners of two different competitions to you.


In the last year we initiated a forum Voting. First of all various local acts were suggested. From this it follows a poll. With which the vote of our forum users (depending upon quantity of the total postings) was more or less weighted. Because of the short term possibility of taking the exotic Tourettes Syndrome from Australia in the 2006 billing, we had to move the winners on a Slot in 2007. Now to keep our promise we are proud to announce the frankonian Viking Metal horde
Kromlek
.
A further - but international - band competition was initiated by Nuclear Blast Recornds. One of the three main prizes there was an appearance at UFTG 2007. Out of more then 1500 entries world-wide got
Ear-Shot
from Germany this addition. According to the bands info more modern and nevertheless timeless Metal is presented, for which categories are such as Neo-Thrash or Metalcore simply too small and insufficient.
28.01.2007 - Death Metal veterans at UFTG 2007
| | |
| --- | --- |
| | Already in February 1989 in Birmingham UK a band was formed, which affected a musical movement considerably. If it had become somewhat quiet in the last years around the British, they will strike back 2007 the more violently to the impact. The Death Metal veterans Benediction prepares a new album with the distinctive title ?Killing Music?. Even if still no exact release date is announced yet, the UFTG stage becomes certainly to tremble not only before reverence when the ?Organized chaos? will enter. Benediction incarnates raw, pure and intense power live as well as on CD! |
| | |
| --- | --- |
| Now the announcement follows volume, which already provided in the apron for substantial discussions and these will rise again now certainly. Fact is however that Justice deciding coined and also strengthened the Frankonian metal scene. As Coverband professional musician with passion, at UFTG as an ?underground act? with own compositions and two strong Death/Thrash Metal releases in the back. | |
21.01.2007 - Two new signings
| | |
| --- | --- |
| | 2004 could convince the band as replacement substituted at short notice. With their new album "Caledonia" Suidakra found the way back again to their former power. Their Black Metal roots are further deeply in the soil buried and hardly still steps to the appearance, however again packing melodies govern the happening. |
| | |
| --- | --- |
| Fleshless from the Czech Republic belong for years to the underground elite in the Death/Grind range. The last album points even parallels to earlier releases of Kataklysm. Now the time came, in order to down-roll also before the UFTG stage everything! | |
31.12.2006 - A Happy New Year 2007!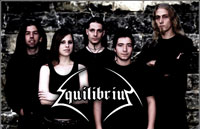 First we will wish you Happy and almost metallic New Year 2007!

Before this year ends we will present you one of the most important newcomer within the range Viking Metal. Equilibrium will release a new longplayer in spring 2007 via Nuclear Blast, in order to rock the UFTG stage in the end of August!
10.12.2006 - Headliner for Saturday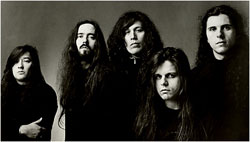 The UP FROM THE GROUND festival in Gemünden goes into the next round. The date is - as every year - the last weekend in August. If we have ourselves in the last years always something time calmly with the publication of bands, we will this (festival-)year equal proudly present the headliner for Saturday.

The Bay Area Thrash Metal legend wILL do an exclusive festival show at UFTG 2007 in the original LINE UP (Chuck Billy, Eric Peterson, Alex Skolnick, Greg Christian, Louie Clemente)

In the beginning of 2007 TESTAMENT plans the long awaited successor of the '99 killer album "The Gathering" which will be releases 2007. The chances are located thus well to already experience a small sample in form of a new Song live!
10.12.2006 - New date confirmed
Coming UFTG takes place at 24th and 25th August 2007. Well announce the first bands soon...

04.09.2006 - Thank You !!!
Thank you to all bands, hands, partners and last but not least to all visitors for a peaceful and great 6th UP FROM THE GROUND festival.
Click History for some pictures and reviews. We'll update this sections permanently.
We will post a statement to clear some criticicism points posted in our guestbook/forum in a few days.
Lost property:
- 3 x key / bunch of keys
- 1 x wristwatch
Please send your request incl. description to heiko@finalbreath.de

«
<
1
2
3
4
5
>
»