»
Up From The Ground
»
Location
Festival area

The area is a bit outside of Gemünden am Main (PLZ: 97737, Lower Franconia, directly on the B26 between Würzburg and Aschaffenburg). The festival area consists of two big areas of grass (camping / festival), directly next to the Main framed with trees. Parking lots are directly on the area, as well as only few minutes walk far from the festival area. Within a radius of 10 minutes walk far from the festival area you will find a supermarket as well as a gas station and an open-air swimming pool, where you can have a shower which is not too expensive.

Accomodation

If you prefer to stay in a hotel instead of pitching your tent on the camping ground, please send your e-mail to hotel@finalbreath.de .

Approach
... by car:
A7 Fulda-Würzburg, motorway exit Brückenau / Volkers towards Brückenau, downwards the Sinntal towards Burgsinn and Rieneck.
A7 Fulda-Würzburg, motorway exit Hammelburg on the B27 through the Saaletal towards Gemünden.
From Würzburg on the B27 towards Karlstadt through the Maintal.
A3 Frankfurt-Würzburg, motorway exit Weibersbrunn, on the approach road U44 through the Hochspessart towards Lohr and then towards Gemünden (upstream).

... by railway:
Gemünden, as a former northwest Bavarian railway junction, has very good railroad connections. The station is approx. 20 minutes walk far from the festival area. The railway stops and goes every hour to and from Würzburg (and Nürnberg), Aschaffenburg / Hanau / Frankfurt as well as Fulda.
Maps

Full area (click to download PDF)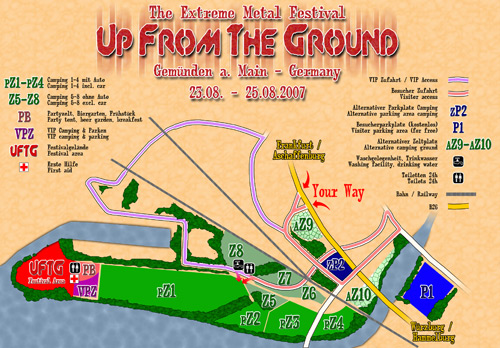 Detailed festival area will follow soon...