08.01.2008 - No UFTG festival in 2008
The gossip factory is working overtime. Last week news messages were growing about a cancellation of UPO FROM THE GROUND festival in 2008. Unfotunately we need to confirm this statement in this instance.

After 7 successful UP FROM THE GROUND festivals in 2000, 2002, 2003, 2004, 2005, 2006 as well as our personally masterpiece in 2007 based on the number of visitors, organisation and feedback from metal press and of course the fans it will be no sequel in 2008 in Gemünden.

There are many more or less serious reasons for this heavy decision. One of the most important was the realisation regarding the hazardous festival area. At this place it wouldn't be possible to enforce this kind of event, if the god of weather would act without mercy. After a almost wet and cold summer in 2007 we were in the happy position of 2 weeks in front of the festival nearly without rain and lot of sunshine. The festival area was nearly sold out and it was easy to reconstruct what would happen if we would not have that strong luck. The disadvantages of the beautiful but trappy area like e. g.

- no option to extend cost saving
- only one unsuitable vehicle access
- no water and drain connection
- no power

only to name but a few, weight to heavy to ignore.

The invested time, work is not in keeping with the high risk. The UFTG festival was growing oversized for a hobby but still to small to take care of it as a full time job.

You could imagine it was a hard decision. Especially after this overcoming feedback regarding the last issue. Many thanks to all our partners, the community Gemünden, the bands, the relentless hands and helpers and last but not least the you, the fans for 7 incomperable, peaceful extreme metal festivals in Gemünden!

The future is not exactely planned so far. Besides regular indoor events (e. g. upcoming Obituary/Holy Moses/Avatar, Thrash Assault festival #2) we have different ideas to carry forward the UP FROM THE GROUND concept. But that's not defined yet. Of course we'll hold this webpage to keep you updated. Stay tuned!

To be continued...
15.08.2007 - Update running order
An update of our Running Order appeared: Sadist will switch with Demonical:

Fr., 2.00 PM - 3:00 PM Demonical (Swe)
Sa., 2.00 PM - 3:00 PM Sadist (Ita)
14.08.2007 - Pre-sales closing
Pre-sale via our onlineshop is possible until Sunday, 19th August 2007, 23.59 PM.
14.08.2007 - Last-minute program modification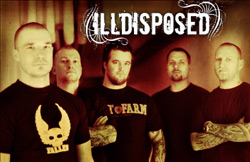 We are really sorry to inform you that Dying Fetus will not perform at UFTG 2007. The fact that this step was necessary to cancel the band finally is very unfortunate indeed. We defined clear conditions for this show and informed the booking agency in front of the announcement in good time. Sad to say this terms were not adhered respectively ignored. And it was subsequent not possible to find a composition. We don't know if Dying Fetus were involved in this progress. We were only in contact with their agency.

This fact was an extreme surprise for us as well as on short notice. However we were able to care for an adequate replacement. Our friends Illdisposed are ready again to fill this slot. Who had already seen this Danish 2003 or 2004 at our festival will definetely confirm that no Death Metal freak will leave the festival area unsatisfied. While the charming announcements of Bo Summers well known to be good entertainment value, the instrumental part runs over each possible barrier without mercy. Welcome to the boys!


08.08.2007 - Festival area
Klick Location to learn more about the festial area 2007. Details will follow soon.

05.07.2007 - Running order
The previous running orde r is online, subject to alterations.

05.07.2007 - Last band confirmed
| | |
| --- | --- |
| | As the last act for the upcoming UP FROM THE GROUND 2007 we're proud to present the swedish Vomitory Since their formation in 1989 this guys perform uncomplicated and raw Death Metal. In spite of each trend thankfully nothing changed this fact. To make this perfectly clear the current hateful release "Terrorize Brutalize Sodomize" underlines it explicit. |
30.06.2007 - Testament goes Nuclear Blast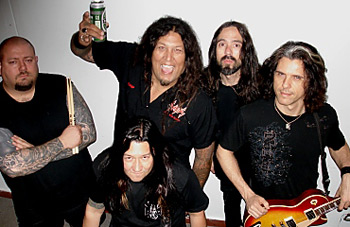 Testament signed a new deal with Nuclear Blast. With it a new album will be within someone's grasp.
Additionally this personable band around fronter Chuck Billy will not come in original line-up at all, as primary commemorated. Don't worry, only the position on drums became a new member. And this is no less than Nick Barker (Ex-Dimmu Borgir, Ex-Cradle Of Filth).

In case you miss the "worldpremier of new songs" in Germany or you can't get enough you will get a second chance at UFTG 2007 to make experience with brandnew material during a grand headliner show!
28.06.2007 - One more Thrash Metal legend live at UFTG 2007!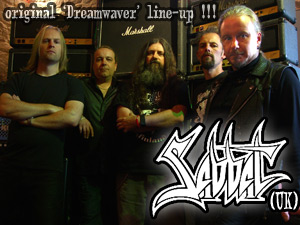 We certainly don't offer a run-of-the-mill schedule this year. One more legend of the early british Thrash Metal scene will enter our UFTG stage, probably their one and only open air show 2007 in Germany! Sabbat from Nottingham UK to be rated as main influence of many metal bands until today as well as originator of pagan and black metal scene. The fact star-producer Andy Sneap (e.g. Exodus, Testament, Arch Enemy, Nevermore and many more) will perform on 6-strings is another special feature. Yeah, Sabbat will come over you with their legendary "Dreamweaver" line-up:

Martin Walkyier - Vocals (ex-Skyclad)
Simon Jones - Guitar
Andy Sneap - Guitar
Fraser Craske - Bass
Simon Negus - Drums

25.06.2007 - 2 more bands confirmed
| | |
| --- | --- |
| | Mid-nineties a brasilian trio was benchmarking attributes like speed, brutality and thoroughgoingness with the aid of "Black Force Domain". Connoisseurs and death metal gourmets already know of which band we're talking about. Krisiun. Until the latest album "Assassination" neither Krisiun's stylistic justification became a new face nor the fascination of their fans regarding the intense and incredible tight live shows has changed. Those brasilian fanatics personates a congenial constant in the fast moving music business. At UFTG nobody will be dissapointed indeed! |
| | |
| --- | --- |
| | UFTG offers since the year one at least one slot for artists seems to sort ill with the remaining billing. 2007 this task goes to Scarecrow . from Finland. The band members originally descend from the horror punk scene. But on "Deadcrow" reigns HC-Thrash par excellence flavored with only a small pinch of raunchy punk attitude. Don't miss! |
1
2
3
4
5
>
»